Handy Backup - easy backup software and backup plug-ins
Physical disaster, media disintegration or data corruption are just few reasons that we looking ways to prevent data loss and protect the associated operational processes. Insuring physical assets from most natural disasters seems quite real, but how to insure the most valuable asset: information and information's integrity?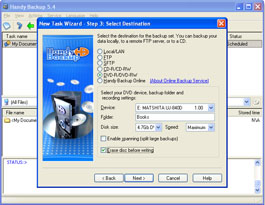 Backup software Handy Backup by Novosoft is award winning and gets high ratings for its ease of use, speed, and above all, its reliability. Computer backup utility recovers information with pinpoint accuracy within a certain time frame. The program works at decent speed, and doesn't considerably affect system speed.
Lets mention that on the one hand featured backup software is certified for Windows Vista and on the other hand it can run in Linux under Wine.
Easy backup utility Handy Backup with nice wizard-based interface adds a great deal of comfort to performing three main tasks which are backup, recovery and folder synchronization. So it doesn't take much time to understand all the bells and whistles. Backup software installation process is as fluent as simple.
Handy Backup is easy backup utility for home users, small and medium business. Handy Backup offers professional features, such as
Support full, incremental and mirror backup;
Automatic Backup Scheduler;
Run as Windows service;
Backup password 128-bit encryption;
Your business Website Backup;
Easy backup of Lotus Notes/Domino databases. v. 6.5 and higher;
Disk Image Backup for your entire hard drive;
MySQL and ODBC database backups.
Answering the where-to-back-up question, developers designed program to support HDD, LAN, FTP and SFTP, CD, DVD, Blu-Ray, USB and this is not all the list. Also developer team offers Integrated Novosoft Remote Backup Service – backup of your most critical data to the high-secure online server accessible via web browser at any time.
Another thing to say about is the Program Backup Plug-ins system. Most people won't need all this features variety at once, so developers found a distinguished way to help user. In addition to described above easy backup features one can extend backup software with multiple Program Backup Plug-ins. Free and advanced plug-ins allow easily backing up critical files, settings and preferences of many popular programs. Moreover, users can create backup plug-ins of their own.
Handy Backup by Novosoft is good and reliable data backup software. Because of supported features and challenging plug-ins solution we consider Handy Backup must-have for small offices and organizations.