Handy Backup Server Review
Complete, affordable backup software for enterprise networks
One of the main reasons why companies go out of business after experiencing a disaster that destroys their office is unavailability to reproduce data critical for their activities. Though today's software market offers a large number of solutions for enterprise data backup, most of them are found to be too expensive, too burdensome to install, too complicated to configure. The most powerful and feature-loaded enterprise backup software will be worthless if users won't figure out how to use it.
Another common issue with enterprise data backup is that most solutions evolved from simple tools designed for home use. Developers often think that implementing a client-server architecture is enough to start proudly calling their products "enterprise backup software". What they forget is all these things without which companies can't survive today: mail servers, e-commerce applications, database management systems, etc.
Handy Backup Server is different. It not only allows you to securely back up files and folders located on networked PCs, but can also create HDD images, back up SQL databases, stores of Microsoft Exchange Server and much more - with all processes managed and monitored by a single backup server. For those seeking the best-for-the-money utility that could automate all backup chores and safeguard the entire enterprise network, it is the right choice.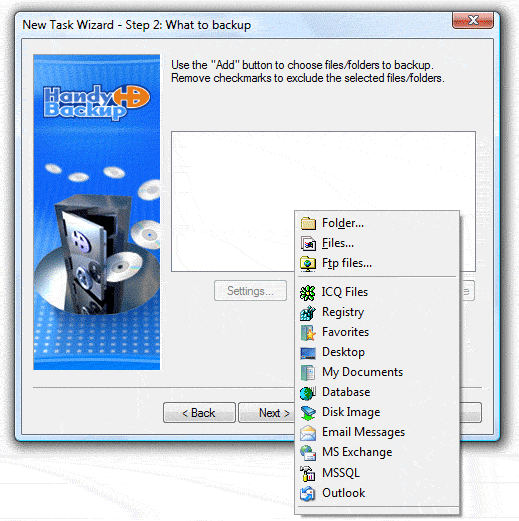 This amazing piece of software is equipped to protect all workstations in a Windows network, as well as all databases, web sites and other data frequently used by businesses. And all this plenty of features is given away for a price at which other utilities provide only few basic features! Now you may think that enterprise backup software that inexpensive might be less efficient than similar products with better known brands and bigger price tags - and you would be completely wrong. Handy Backup Server bears a variety of awards and certification logos verifying that it does what it says - and does it perfectly in any Windows environment.
The only weak spot that one may find in Handy Backup Server is that it doesn't have modern stylish design. It has a comprehensible, well-organized interface, but still it lacks glossy buttons and Web2.0-style pictures that we got used to see in the last years... The answer to such criticism is conclusive: it's a utility! And utilities are not expected to be pretty - in the first place they need to be reliable, so you can safely entrust enterprise data backup to them.
Handy Backup Server comes with one license for server part and five licenses for client workstations and is priced at $599 - which is strongly competitive, taking into account the functionality included. Developers of the utility provide good volume-based discounts on additional client licenses and claim that a single server can work well with up to 100 workstations. Of course, the exact number depends on each specific network configuration, the amount of data intended for backup, and other things, but for most small businesses Handy Backup Server looks like a really valuable tool.
Who needs Handy Backup Server?
Your company does, if you've ever:
Had to lose profit due to server failure and downtime incurred
Needed to recover workstations in your enterprise network after virus attacks or malware hacks
Wanted to save your time and not teach your company's employees back up their data
Back to Backup Software reviews